About Schouten Truck Parts
Schouten Truck Parts B.V. has existed since January 2020 and stems from Schouten Administration & Logistiek BV and Deba Parts BV.
For the Dutch market we sell used parts that are still in excellent condition. We sell new parts for export.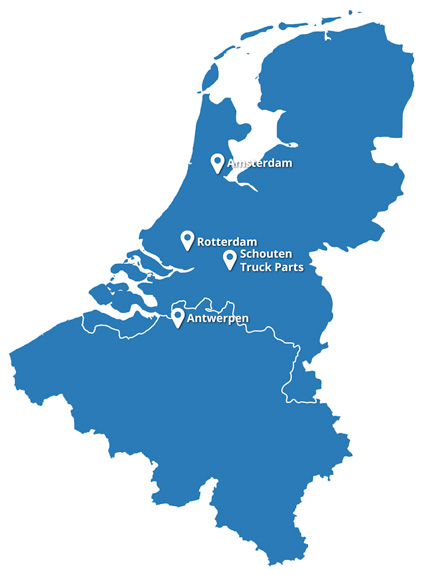 We are a 100% subsidiary of IVECO Schouten BV
As a family-run business IVECO Schouten has been on the road for more than half a century. Once started working on trucks in a shed in Almkerk, founder Izak Schouten laid the foundation for a wonderful company. His wife Adrie operated the pump for years and kept the accounts. In 1973 the company became the official Fiat Commercial Vehicle dealer. In 1982 the Fiat brand was put on the map as IVECO. When son Fred Schouten also joined the company in 1995, the management consisted of three people and IVECO Schouten really took wings. With twelve locations throughout the Netherlands, IVECO Schouten is a serious player in the market.
IVECO Schouten offers a total concept of sales, after sales, financing, repair and maintenance contracts, replacement transport and specific technical solutions. As your partner for sustainable transport, we provide you with the best possible advice on future-proof transport solutions. We are particularly proud of our alternative fuels CNG & LNG with which we can help you sustainably and we offer a 24/7 service that guarantees optimal uptime. Because we have a large dealer network spread across Central Netherlands, we have a lot of knowledge in-house and we are closer than you think!
For more information about Schouten Truck Parts, you can contact us. We are happy to answer all your questions.